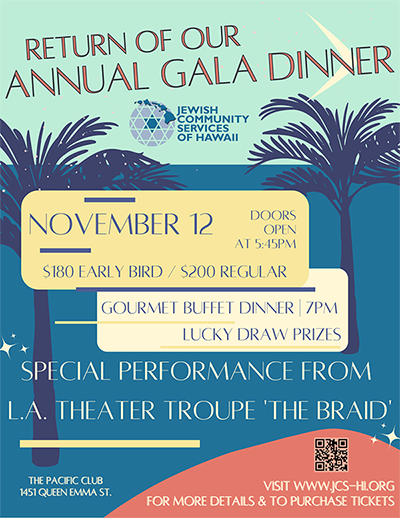 We are delighted to announce the return of our Annual Gala Dinner!
Please join us Saturday November 12th, at the Pacific Club for Dinner and Theater.
Cocktail hour begins at 5:45pm with a sumptuous Buffet Dinner served at 7:00pm, followed by a special performance from 'The Braid', a Los Angeles based Jewish theater company.
Everyone attending gets a complimentary Lucky Draw ticket. Prizes include:
2 nights in an Ocean View Room at the Hapuna Beach Resort on the Big Island
a Cocktail Party at the Waikiki Yacht Club
a great assortment of Restaurant Certificates including Chef Chai's and Signature Steakhouse
$100 gift certificates to Market City Shopping Center
Golfing at premiere Oahu golf courses
Tori Richard gift certificates
and so much more…
Make a voluntary donation for more Lucky Draw tickets and increase your chances of winning!
TO PURCHASE BEVERAGE TICKETS AND MAKE A DONATION FOR LUCKY DRAW TICKETS & PAY BY CREDIT CARD PLEASE CLICK HERE